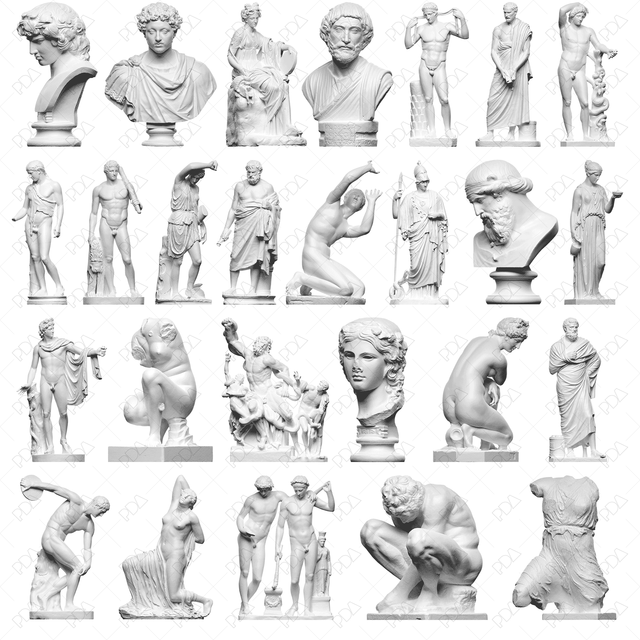 Ancient High Quality PNG Statues (49 figures)
Description: Set of 49 ancient gypsum statues perfect for any interior or exterior, for a museum or a lobby, for a gallery or an urban installation. The statues can be scaled to match your space. They are made from photographs of a real museum sculptures. 
Format: Translucent background PNGs
Keywords: Ancient statues PNG PNGs raster cutouts artcutouts Greek statues Roman statues ancient 3D sculptures post digital drawing collage montage entourage
Product Licenses:
Free Products
Free products can be used in any type of use - both academic and commercial. When using a set, a pack or part of it, you are required to give full credit to Post Digital Architecture (with an active link for online versions).

When a product is used in a project that is published on social media, you are required to give full credit to Post Digital Architecture (with an active tag to @postdigitalarchitecture on Instagram or other social media's profile).

Student License (Academic, Educational Use)
When using a product tagged with "Educational Use" you are allowed to use it for academic purposes only. Giving a credit to Post Digital Architecture is much appreciated.

Commercial License
Once bought, you are free to use the product without giving attribution.

What is strictly not allowed to do (in all cases)?
Products can't be sold without being part of a bigger artwork like a drawing, collage, rendering, poster or any other work combining Post Digital Architecture's digital products with other graphic or digital elements.
Also, you are not allowed to use products from Post Digital Architecture in similar or any competing services.