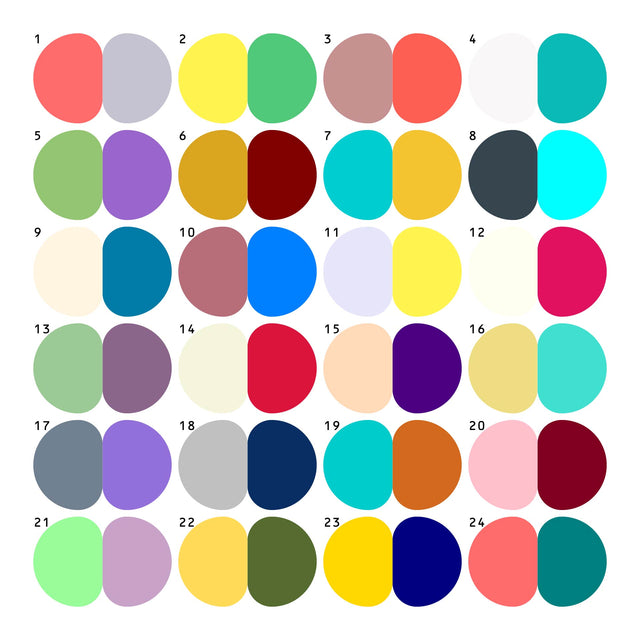 Harmonious Color Schemes

Description: 24 Pairs of harmonious color schemes perfect for any use, including plans, cross sections, elevations, diagrams, axonometric drawings, isometric drawings, post digital collages and other architectural documents.

What are harmonious colors?
Harmonious colors, also known as harmonious color schemes or harmonious color combinations, refer to groups of colors that work well together and create a visually pleasing and balanced effect. These color combinations are chosen based on their proximity on the color wheel or their inherent compatibility, and they tend to evoke a sense of harmony and cohesion when used together. Harmonious color schemes often create a sense of unity and balance in various design and artistic contexts.

Also, take a look at our patterns

 

here
To install the swatches library in Adobe Illustrator, please follow these steps:

Window menu > Swatches > In swatches window: Click top right corner button >
Open Swatch Library > Other Library... > Choose the file you've downloaded > 
Click Open (Hatches will appear in a separate window)

Here is a little bit more detailed way:

Download the pattern library file in a compatible format, such as AI, EPS, or SVG.

Open Adobe Illustrator and create a new document or open an existing one.

Go to the "Swatches" panel, which can be found under the "Window" menu.

Click on the "Swatch Libraries" icon at the bottom of the panel and select "Other Library" from the dropdown menu.

Navigate to the location where you saved the pattern library file and select it.

The pattern library will then appear in the "Swatches" panel as a new swatch group.

To use a pattern from the library, simply select the object you want to fill, click on the pattern swatch you want to use, and the object will be filled with that pattern.
File format: Adobe Illustrator Ai.
Product Licenses:
Free Products
Free products can be used in any type of use - both academic and commercial. When using a set, a pack or part of it, you are required to give full credit to Post Digital Architecture (with an active link for online versions).

When a product is used in a project that is published on social media, you are required to give full credit to Post Digital Architecture (with an active tag to @postdigitalarchitecture on Instagram or other social media's profile).

Student License (Academic, Educational Use)
When using a product tagged with "Educational Use" you are allowed to use it for academic purposes only. Giving a credit to Post Digital Architecture is much appreciated.

Commercial License
Once bought, you are free to use the product without giving attribution.

What is strictly not allowed to do (in all cases)?
Products can't be sold without being part of a bigger artwork like a drawing, collage, rendering, poster or any other work combining Post Digital Architecture's digital products with other graphic or digital elements.
Also, you are not allowed to use products from Post Digital Architecture in similar or any competing services.