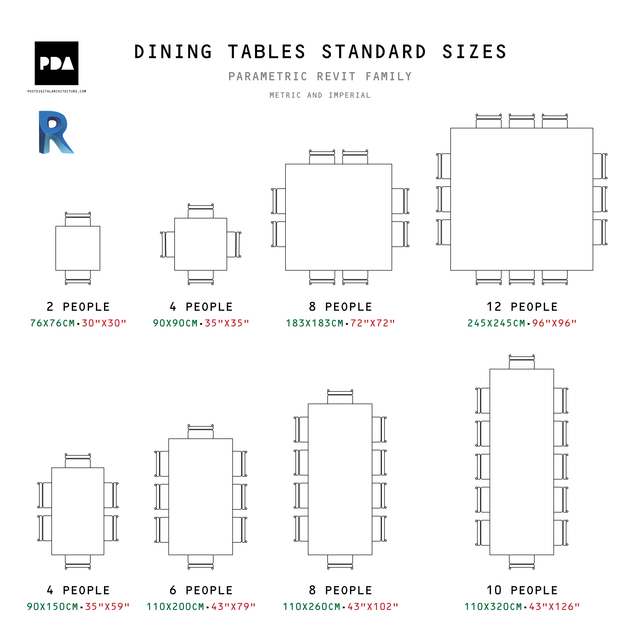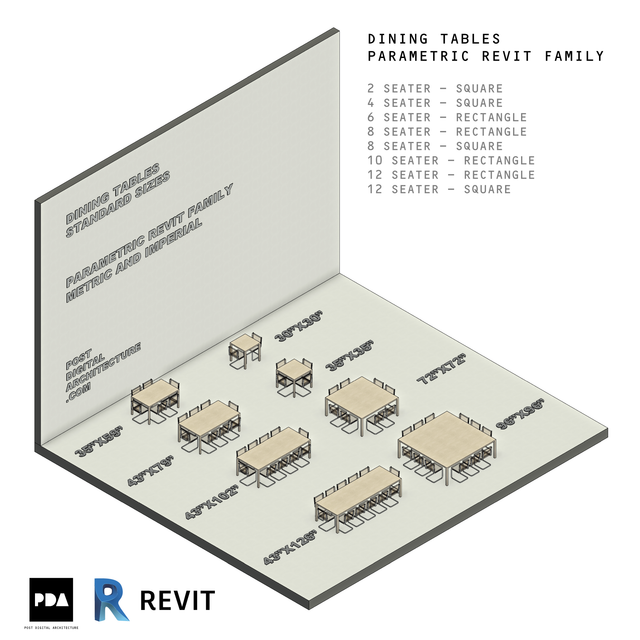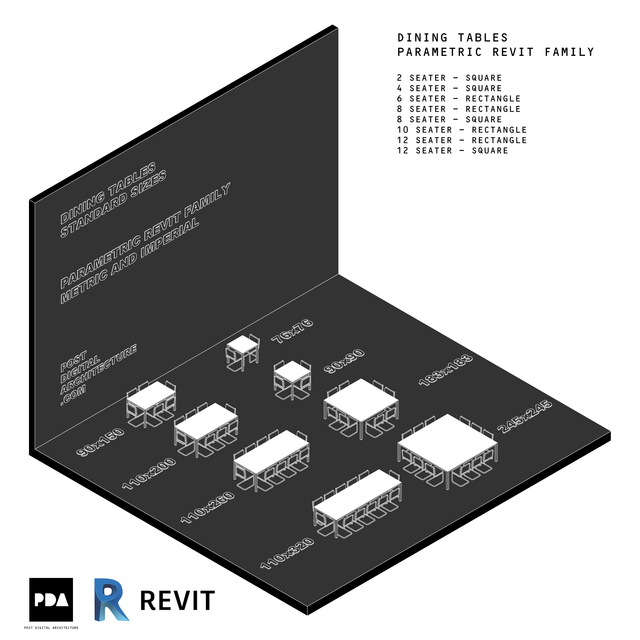 Set of Rectangular Dining Tables in a Single Family
Description: A parametric family of 8 standard size dining tables:

2 Seater Square Table
4 Seater - Square Table
6 Seater - Rectangle Table
8 Seater - Rectangle Table
8 Seater - Square Table
10 Seater - Rectangle Table
12 Seater - Rectangle Table
12 Seater - Square Table

Types in family: 8 types
File format: Autodesk Revit Family (.rfa), Revit 2020
When it comes to designing the dimensions of a dining seating area, we occasionally overlook the most basic requirements. In order to make the process of designing your dining space more simpler and quicker, we've included the most crucial dimensions and guidelines.
Dining Seating Area
The optimal chair measures 40 - 45 cm in width, 42 - 47 cm seat height

A minimum of 10 cm should be left between the edge of the table and the chair for maximum comfort
Make sure that there is a minimum of 20 cm between each chair for both comfort and aesthetics
Make sure to provide at least 30 cm of free space in front of the table footprint to the wall and 70 cm to the furniture to allow for comfortable entry and exit
For best use of the dining table, it's recommended to leave a minimum vertical distance of 60 cm between the top of the table and the lower edge of the lamp
Following these measuring guidelines can assist to ensure a cozy and aesthetic dining seating area
Product Licenses:
Free Products
Free products can be used in any type of use - both academic and commercial. When using a set, a pack or part of it, you are required to give full credit to Post Digital Architecture (with an active link for online versions).

When a product is used in a project that is published on social media, you are required to give full credit to Post Digital Architecture (with an active tag to @postdigitalarchitecture on Instagram or other social media's profile).

Student License (Academic, Educational Use)
When using a product tagged with "Educational Use" you are allowed to use it for academic purposes only. Giving a credit to Post Digital Architecture is much appreciated.

Commercial License
Once bought, you are free to use the product without giving attribution.

What is strictly not allowed to do (in all cases)?
Products can't be sold without being part of a bigger artwork like a drawing, collage, rendering, poster or any other work combining Post Digital Architecture's digital products with other graphic or digital elements.
Also, you are not allowed to use products from Post Digital Architecture in similar or any competing services.